Willy's Flat Fender Jeep
Home
The wheelbase is a little flexible with this body due to the open-ended front fender design. An 11 - 11.5" wheelbase will keep the front wheels under the front fenders, but you could run a little longer wheelbase and have the front wheels protrude a little from the front fenders.
The Willy's Flat Fender Jeep is a body you will likely want to reinforce since it lacks the supporting roof structure of a conventional truck body. Also, it is made without a floor pan to accommodate many chassis configurations, adding a floor pan would stiffen the body as well.
You will need to fashion a windshield frame if one is desired, the holes in the side of the hood for the windshield frame are present, and a windshield frame can be easily formed from aluminum rod, brass rod, or metal coat hanger.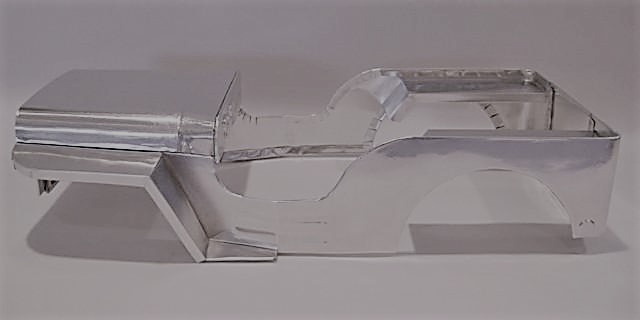 | | |
| --- | --- |
| Length | 16.5" |
| Width | 8.5" |
| Height | 4" |
| Wheelbase | 11 - 11.5" |
*Dimensions are approximate