Options for Bodies
Home
For option pricing, visit the pricing page
Skip to:
Premium Truck Reinforcing Kit
Drop-Bed Extension Panels
Lower Rear Cab Panel
Thicker .008 Aluminum
E-6000 Glue
Body Reinforcing
Unassembled Kit Form
Replacement Body Panels
- Premium Truck Reinforcing Kit
Includes all the standard reinforcing material PLUS:
- 6 piece scale reinforcing channel for underside of truck bed
- 2 additional craft sticks for a total of 4
- 16 additional aluminum squares for a total of 20, for strengthening body post holes, scale patch panels and more!
- Order more than one for more reinforcing material!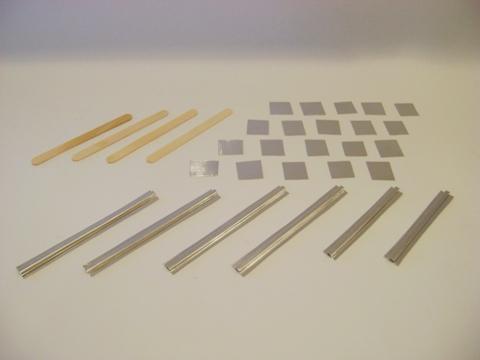 The next two pictures show the reinforcing channel in position on the underside of the truck bed floor. In this picture the scale reinforcing channel is not glued down, it is sitting there to show its placement.

This picture shows the scale reinforcing channel glued in to position, this picture is from the Box-Art F-350 build.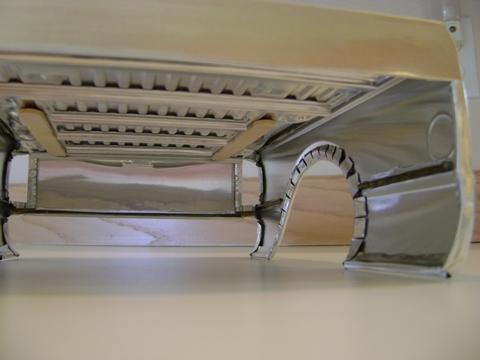 For comparison, here is the standard reinforcing material that comes with every aluminum body
- 2 craft sticks
- 4 aluminum squares for strengthening body post holes, scale patch panels and more!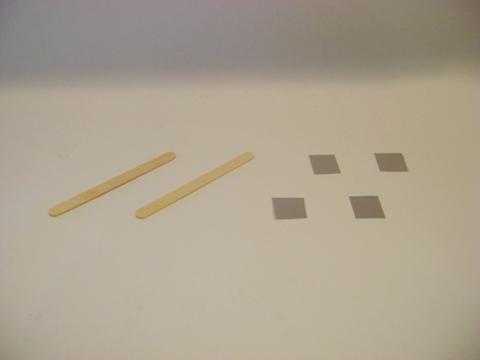 - Drop-Bed Extension Panels
Want a more scale looking bed? Here you go! These optional Drop-Bed Extension Panels lower the bed floor approximately 1 inch over stock and also includes a more scale front bed panel. The rear wheel arches in the bed floor are not re-worked though so double-check your rear tire clearance. When specifying the Drop-Bed Extension Panels I *highly* recommend also specifying the Premium Truck Reinforcing Kit since the longer bed sides will naturally allow the bed section to flex a little more.
Clodbuster Drop-Bed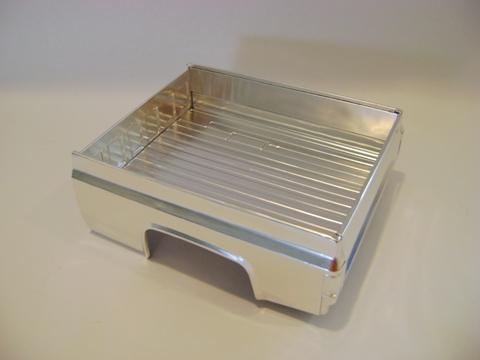 Hilux Drop-Bed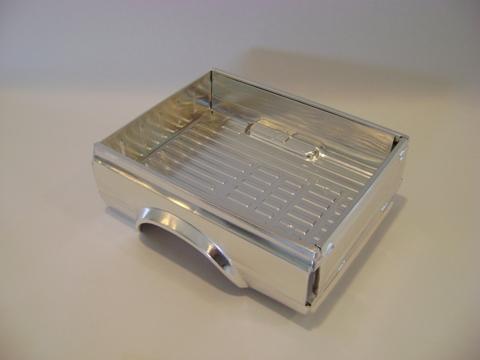 Blackfoot Xtreme Drop-Bed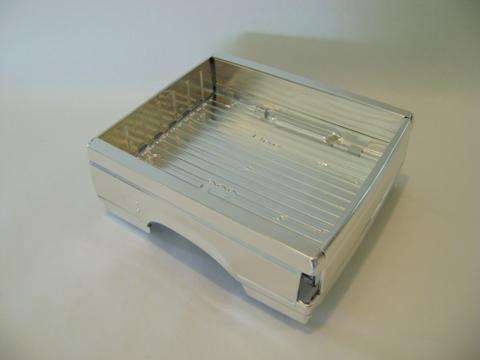 - Lower Rear Cab Panel
Already included with the Clodbuster Truggy, now an available option on every truck cab! Each Lower Rear Cab Panel is made specifically to fit each cab, it is NOT a universal fit piece. The picture below is of the Clodbuster Lower Rear Cab Panel, the others have a similar design.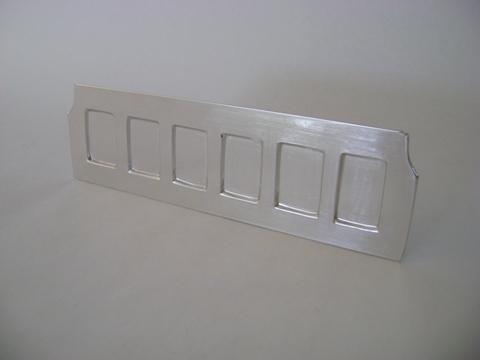 This picture of the truggy cab for the Clodbuster shows how the Lower Rear Cab Panel can add to the scale appearance of a cab. When looking at these two pictures you may have noticed that the little 'ears' on the bottom of the Lower Rear Cab Panel for the Clodbuster have been eliminated , occasionally I will make minor changes to parts to improve things like strength and appearance.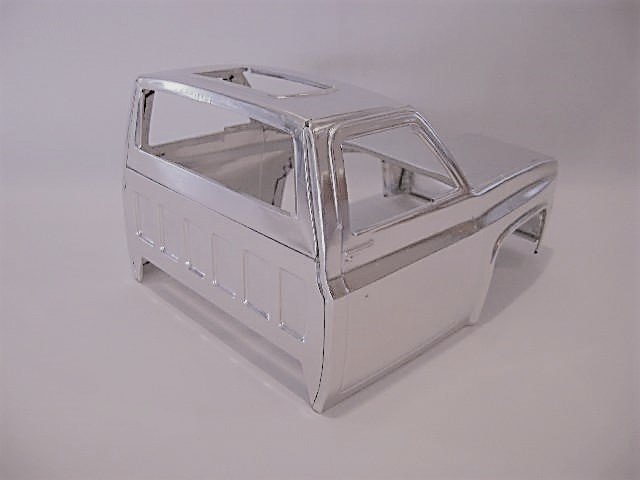 Lower rear cab panel on the Hilux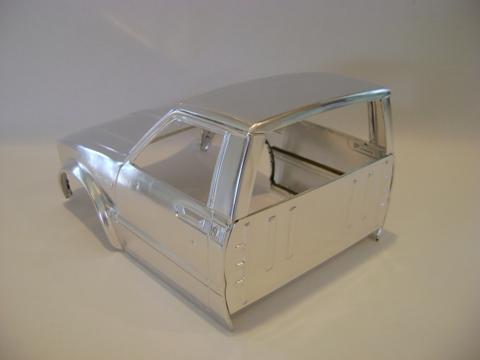 Lower rear cab panel on the F-350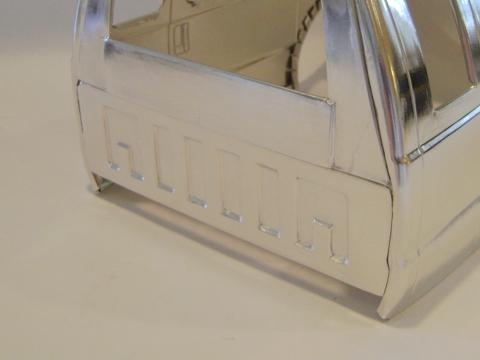 Lower rear cab panel on the Blackfoot Xtreme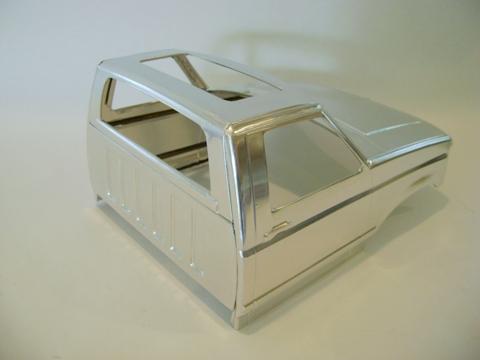 - Thicker .008 Aluminum
Has been available for awhile, an extremely popular choice! The thickest aluminum I offer.
- E-6000 Glue Option
The ultimate bonding strength for assembling your body. E-6000, as detailed in the F-350 Box-Art build, is a rubberized cement which is much stronger and more resilient than standard hot glue but adds significantly to the time required to assemble the body. Do not specify this option if you're in a hurry to get your body.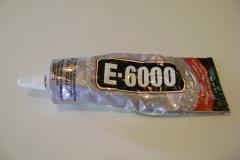 - Body reinforcing Option
Don't want to hassle with reinforcing the body yourself? Then reinforcing the body with metal coat hanger similar to the F-350 Box-Art build is the perfect option for you. This adds significantly to the time required to assemble the body, do not specify this option if you're in a hurry to get your body.
- Unassembled Kit Option
Like to put things together yourself for the ultimate in flexibility? Order the body in kit form and save a couple dollars at the same time! You have more flexibility with reinforcing, fitting finishing parts and more. The downside? Assembly can be tricky, recommended for advanced modelers only. The E-6000 glue option and body reinforcing option are not available when the body is ordered in kit form.
- Replacement Body Panels
Has your hood seen better days? Does your tailgate look like you've backed into a tree? Or maybe you just want to cut out a plastic panel from your hard body and put an aluminum panel in its place. Now you can order individual body panels and do just that.